We were at the Jerusalem Gardens Hotel and had Sheila's car. At 8:45 am we set out for Caesarea National Park, Israel.
During the Persian period and the Hellenistic period (until 37 BCE), the village was in Dor county called Straton's Tower. In 103 BCE they were conquered by the Romans and in 30 BCE, the village was awarded to Herold who ruled.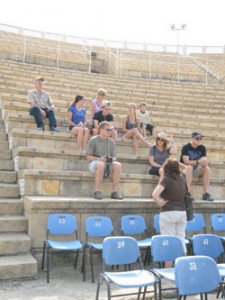 He built a large port city at the site. It took 12 years to build the planned city and he called it Caesarea in honour of his patron Octavian Augustus Caesar. It had networks of crisscrossing roads, a temple, theatre, amphitheatre, markets and residential quarters.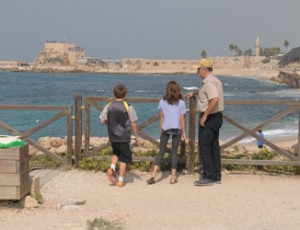 The aqueducts, bringing in water from Shuni springs (a 7.5 km northeast of Caesarea), are terrific. We ate lunch under one of the aqueducts at noon – spreading out along the beach, windy and nice and sunny.
In the afternoon we went to Nazareth to a thing called Nazareth Village. With the guide we explored the Nazareth side all these years later.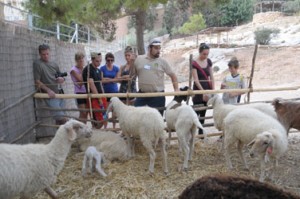 We ate dinner at Younis Restaurant; Kevin favourite place. It was getting late so we got it the Sea of Galilee and pitched (a lot of) tents, in the dark. We were sleeping outside this evening …