It's almost December, November 23rd, only 9 days until the first of December. It is 11 degrees outside and people are hiking outside to and from the mall with their sweaters on or there coats open. It is sunny. Outside the mall at Eglinton and Yonge, is the Holiday Tree, big and beautiful with a star on top. It's star is parallel to the half moon rising in the 4:30 pm twilight.
I haven't written for a while. I'm sorry world! I HAVE TO write!
For example: I was walking along the pathway when I discovery a sign. It said "Lung Cancer Canada Grove" …and I though of my mom.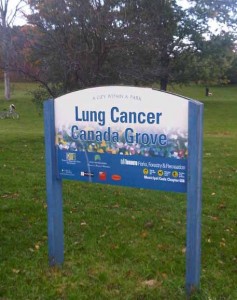 She died of lung cancer about 8 years ago. She didn't smoke or anything. I haven't been able to write about that. It took about 2 and a half years for the cancer to kill her.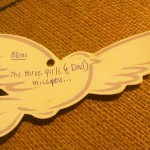 I received a letter in the mail from the Princess Margaret Hospital and a little bird thing that required my Mom name on the one side and all the people that missed her on the other. It had 'Partners for Hope … Give Hope. Make Progress. Create Impact. Believe It. We will conquer cancer in our lifetime'. I'm not sure that it will be in our lifetime. But …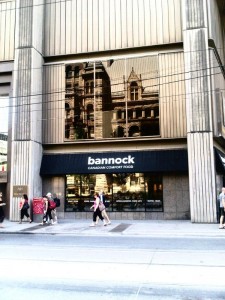 For example:  I am outside the City Hall November 27th … I came down to watch the Grey Cup Parade but I didn't make it. So I went into the Bannock Restaurant where they have lunch/dinner and a snack bar serving coffee, sandwiches and various things for dessert. It's right near the City Hall so I didn't make it that far except that the people were leaving and I got trampled!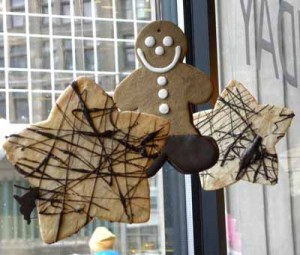 Right across from me there is the old city hall and I'm determined to take photos of it … I haven't but today is the day.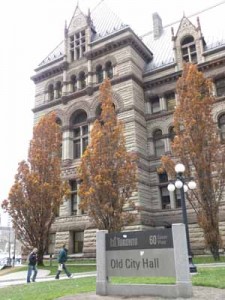 The new city hall was born in 1965, I think. They were so sure that the new city halls was so-o big that they wanted to tear down the old city hall. That would have been a disaster! Because they starting using the old city hall for city hall people who were a step down from the new city hall members and couldn't get into the new city hall. Forty years its been a part of the town and it has been filled up with the other city hall members going to other buildings.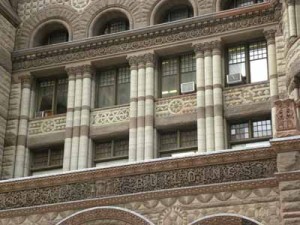 For example: I was riding on a streetcar along King Street and I looked up. I was coming up on John Street. Metro Convention Centre was at the end and looking further down, was the Roger's Centre with the CBC on the left. The people/gargoyles were alive; painted gold and all cuddled up on the wall. And I loved it!